AFHTO recognizes that our members are doing fantastic work on the frontlines attending to patients and adjusting to the COVID-19 pandemic. To connect our teams and showcase the initiatives made by our them, we've created an interactive platform for our members to browse the initiatives made by their fellow members.
Please feel free to scroll through all the initiatives by OH region.
Have an initiative that hasn't been featured? Contact us with your initiative to be featured, or share using our AFHTO Members Initiatives webform.
In collaboration with Drs. Donnelly and Ashcroft, AFHTO has captured AFHTO teams' initiatives and summarized into a booklet for you. You can also click here to read about the research findings!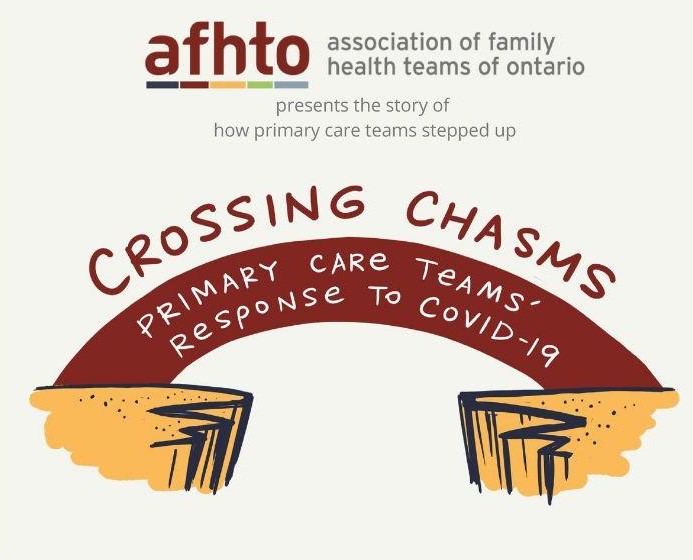 ---
Toronto
Initiative

Description

Team Name

OH Region

Mass Immunization & COVID vaccination initiatives (people living in encampments, experiencing homelessness)
Since running our Dixon Hall clinic in March, we have been leading a mass immunization clinic at a local community centre, in partnership with the St. James Town Community Corner (The Corner). A small team on our health bus has also been vaccinating people living in encampments and other folks experiencing homelessness. All together, our Sherbourne-led COVID vaccination initiatives (still ongoing) has resulted in nearly 17,000 people getting vaccinated
Sherbourne Health
Toronto
COVID-19 Vaccine clinic - AstraZeneca AZ pilot

3 days, administered 205 doses, 60+ years old

clinic took place because Sherbourne Health works with marginalized communities - newcomers, LGBT2SQ+, homeless - were having challenges accessing timely vaccines and the interprofessional team at Sherbourne wanted to help in a more direct way (rather than referring our clients to external options - pharmacies/mass immunization clinics which can be difficult for our clients to navigate)
partnered with Dixon Hall (188 Carlton Street) in Toronto, which is walking distance from Sherbourne Health. This location is well known to many seniors in the neighbourhood due to their programming for seniors.
most people who received vaccines were Sherbourne Health clients who met eligibility criteria for the Astra Zeneca vaccine at the time. Dixon Hall was instrumental in identifying eligible seniors--ranging from their long-time clients, seniors visiting a local food bank, etc--for Astra Zeneca vaccines to ensure equitable vaccine distribution for additional doses (about 30).
Sherbourne Health and Dixon Hall built on prior experiences working together for community-based flu vaccine clinics in Fall 2020 (ideal space for physical distancing)
used Toronto Region Vaccine Playbook (suggestions for fixed community clinic) as a guide for quick planning (a few days since being notified of getting Astra Zeneca vaccines)

Sherbourne Health
Toronto
High Volume Outdoor Vaccine Clinics *

The majority of family physicians in west Toronto practice without the support of an interdisciplinary team, usually in independent offices. Physical distancing made imperative by the COVID -19 pandemic meant that they could not see patients in person, in clinic, at the same rate as a typical fall flu vaccine campaign. The West Toronto Ontario Health Team (WTOHT) identified supporting flu vaccination as high priority and it emerged as its first community initiative. 

Toronto

In-Person Flu Clinics 

Central Brampton FHT has ensured that they're following all IPAC controls and measures along with continuing to provide flu clinics even in the "lockdown" region for the patients of the FHT. The feedback continues to be amazing, Patients are happy with the flow, and clinic being on time with appointments. No wait times and they feel safe when in the flu clinic.

Toronto

Flu Shot Clinic - Regular, High Dose & Kids under 5

North York FHT is offering parking lot drive thru flu clinics on weekends available to the community with no appointment necessary. To accommodate elderly and vulnerable populations, these individuals can receive the flu shot in their car as well. North York FHT is offering a drive thru flu shot clinic with only a 20 minute wait for patients needing a regular or high dose flu shot and for kids under the age of 5. 

North York FHT
Toronto

Lactation Support

Village FHT is fortunate to have lactation support available to our patients. The certified Lactation Consultant offers assessments and ongoing lactation support at the clinic. With the closure of Toronto Public Health Breastfeeding Clinics, they recognized a need in our community. With the support of the lead physician and executive director, the Lactation Consultant has been able to extend her services to non-patients who are unable to access lactation resources during this time via telephone, virtual or in-person appointments. 
They have received thanks from Toronto Public Health and the non-patients who have utilized this service. It is important to recognize the importance of community and how teams can help during these challenging times.

Village FHT
Toronto

Virtual Well Baby Groups

Village FHT provides care to many infants and families. Prior to COVID-19, Well Baby Groups were offered in clinic to new parents with the purpose of providing comprehensive education based on infant's age (starting at 2 months through to 9 months old). Topics such as developmental milestones, nutrition and sleep are discussed in a group of parents and infants of similar ages & stages. Due to COVID-19, all in clinic groups had to be abruptly cancelled. Our team recognized an ongoing need for education and support for new parents and decided to trial Virtual Well Baby Groups as an alternative. Guided by the clinic RN / Lactation Consultant to families continue to receive education, support and connection with other first-time parents in a virtual setting. The regular PowerPoint presentation is shared, and discussion is had between the nurse and participants. Resources are sent via Avocare. The team has received great feedback and appreciation that these services continue despite the current circumstances.

Village FHT
Toronto

Caring for Seniors and Vulnerable Populations during the COVID Pandemic

To reduce the spread of COVID-19 in buildings in East Toronto and improve access to the frail, elderly and the vulnerable, SEFHT is collaborating with the East End Community Health Centre and their community partners to create a Primary Care and Community Care Virtual Response Team.

Mobile Unit Medics

Mobile primary care units (Mobile Unit Medics) are being set-up in East Toronto to address the indirect impact on non-COVID conditions due to resource restrictions. As a result of COVID (2nd wave) and the effect of interrupted care on chronic diseases (3rd wave).

COVID-19 Virtual Monitoring

SETFHT partnered with MGH to virtually monitor patients discharged from in-patient units, assessment centres and the ER. More details can be found in the Hospital News article - (see p. 28)

If patients do not have access to a pediatrician or family doctor, and they are not providing virtual or in-person visits, SETFHT will be providing access to a family-friendly primary care environment for the safe assessment of children during the COVID pandemic. This is to help the patients of the community and their families get through this challenging time.

Social Media Q&As

SETFHT has found this to be a great tool in helping patients deal with social isolation. They have had a great response from their Instagram LIVE sessions on a variety of topics.

Primary Care Virtual FHT

NYFHT has supported a new primary care virtual FHT for patients unable to access their primary care provider during this time, including those in congregate settings and those recently discharged from hospital for COVID-related illness. The NYFHT facilitated this by providing increased IHP support and supporting physician/patient EMR accessibility.            

Sharing Best Practices and Information/Resources with the Community

Best practises and information/resource sharing within the community, such as pharmacist-led medication updates, webinars and communiques, were led and distributed by the NYFHT in collaboration with the North York Toronto Health Partners (NYTHP) and Department of Family and Community Medicine (DFCM).

Patients Continue to Come First

NYFHT IHPs conducted outreach and wellness calls to patients identified as vulnerable and high risk. They provided support, resources and connected them with services to keep them safe and at home. Counselling for chronic disease management, health promotion and prevention, and mental health continued to take priority. Urgent in-person care continued where necessary to ensure timely access to care, and to keep patients out of the emergency department.
---
Central
Initiative

Description

Team Name

OH Region

COVID-19 Vaccine switch 
Prime Care in Milton gave AZ for 2 weeks until this week when they had to put the clinic on hold. They experienced some hesitancy, but moved forward positively, and and gave over 300 vaccines!
Prime Care FHT reached out to their clients and beyond. Their RN Julie even reached out to her Rotary Club to spread the news throughout Halton. 
Now they are having a walk-in clinic on Saturday May 15th, injecting Moderna. The clinic was fully booked within 15 minutes - and they will be successful in giving 100 vaccines
Prime Care FHT
Central
Covid-19 Pop Up Testing Centre at 3 locations
Carefirst has been approached by Ontario Health and Central LHIN to lead the implementation of the "High Priority Communities Program" in southeast Markham, which has been identified as a COVID-19 hot zone. The initiative addresses COVID-19-related challenges by increasing access to testing, enhancing community outreach and health education, and providing wrap-around care to the community. Carefirst currently has three COVID-19 pop-up testing sites in and around southeast Markham. More details and online booking can be found on their website. 
Carefirst FHT
Central

New program by local health group helps monitor COVID patients at home

 

Home Monitoring Program an 'important tool' to prevent an undetected drop in blood oxygen levels and enable quick medical intervention. To better support residents in South Georgian Bay who have been diagnosed with COVID-19 and are recovering at home, the South Georgian Bay Ontario Health Team (SGB OHT) has launched a Home Monitoring Program to care for high-risk patients with suspect or confirmed COVID-19. To learn more, click here.*
Georgian Bay FHT
Central

5 consecutive weeks of flu clinic 

Markham FHT has been giving flu shots for 5 weeks consecutively with a total vaccinations given: 4810! Patient feedback was overwhelmingly positive to boot.

Central

Drive-thru flu shot clinics open in Collingwood and area next month

Georgian Bay FHT is supporting a drive-thru flu shot clinic for their community. 

Georgian Bay FHT
Central

Flu Shot Clinic hits 121 Immunizations by 3 pm

Summerville FHT is offering a flu shot clinic, for which on November 7, 2020 they had immunized 121 patients by 3 pm. 

The Georgian Bay FHT confirmed testing is complete at Bay Haven Care Community, Collingwood Nursing Home, and Creedan Valley (Creemore) and will continue testing for local long term care homes. The Georgian Bay Family Health Team is running the Collingwood COVID-19 assessment centre, a drive-thru tent in front of the medical clinic building. They have set up a website where patients can sign up to be on the waiting list.

Georgian Bay FHT
Central

In Office Medical Monitoring

There are a number of stable (Child, Adolescence and Young Adult Eating Disorders Program) patients who were being followed by their family physician for medical monitoring. However, due to COVID-19 some practices have switched to virtual care with no in-person visits. This has increased the potential for these patients to become de-stabilized. As such, Aurora-Newmarket FHT has stepped up and will complete in the in office medical monitoring of these patients.

Aurora-Newmarket FHT
Central

Virtual Check Ins and Groups 

At Aurora-Newmarket FHT, the occupational therapist has introduced a new feature, Wellness Wednesdays, where the team shares helpful information on our Facebook page each week to support patients health and well-being while staying home.The team of IHPs are working on a new process to start Virtual Groups to continue providing care for our patients and staying on track with our Schedule A programs. For example, Caring for the Caregiver, What the Tech, and even some groups for patients living with Type 2 Diabetes (carb counting or What the Tech) will be important to run. "What the Tech" will focus on mental health apps and online resources and/or nutritional resources. The team will utilize our social media and website to gather interest.

Aurora-Newmarket FHT
Central

Providing Care to Unattached Newborns and Moms

Aurora-Newmarket FHT is providing care to unattached newborns and moms who no longer have ready access to their family physician after discharge from Southlake Regional Health Centre. NP and RNs are administering immunizations for our rostered patients, as well as unattached babies and pregnant women.

Aurora-Newmarket FHT
Central

Patient Check Ins

BCFHT has created a template for IHPs to check in on high-risk patients for social supports, health care needs and COVID-19 questions.

System Navigation

RNs at Crosstown FHT are focusing on system navigation and reaching out to isolated patients with resources during this situation

Drive-through Covid-19 Pop Up Testing Centre 

The Georgina Nurse Practitioner-Led Clinic is proud to be leading the setup of a drive-through Covid-19 pop up testing center on July 29th at the local arena. We have worked with several organizations and they include, but are not limited to, the Town of Georgina, Central LHIN, York Region Public Health, York Region Community Paramedics, Sutton firehall, Health Georgina, Knights of Columbus, Kinsmen and others.  

 

This testing day will be for asymptomatic people who may be concerned about contact, want to visit family in Long Term Care, or are concerned about exposure such as with health care workers or customer service workers.   As Georgina covers a large geographical area, this will be of great value for those living in remote areas of Georgina or for those who do not want to travel 30-45 minutes to the closest testing centre.

Georgina NP-Led Clinic

Donated funds to purchasing Ventilators

 

Donated PPE

Donated money to Southlake Hospital for purchasing ventilator machines ($150k). Donated PPE to a local nursing home and continue to work with them around patient and staff supports

 

 

Collaborating with a Group Home for COVID-19 Screening

Participated in COVID-19 screening at one group home and ran a screening day at a second local group home

 

Elderly Patient Check

RD, HP and RPN called 220 seniors to screen for food security, medication updates, safety, and mental health supports. Patients were able to email images through a general mailbox.

 

Clinic Operation and Virtual care

The GNPLC has continued to provide access  to primary care for patients, including access two evenings a week. The majority of the staff are working remotely and providing care through e-visits. However, there are a minimum of two NPs, RPN or Lab Tech for in-person visits as needed, as well as two medical secretaries, the lead administrator and clinic director.

 

Wait While

The GBFHT utilized the application "Wait While" to provide patients with a virtual wait list for care at the GBFHT after-hours clinic. Utilizing this virtual list ensures that patients are able to socially distance themselves from other patients while waiting for their appointment. Patients are able to log in through the virtual portal link on the GBFHT website and add themselves to the wait list. They are notified when it is their appointment, and they can then enter the clinic after the prior patient has left. If a patient does not have access to the internet on their phone and would like to add themselves to the wait list, they can either text in their information to be added or speak with a greeter at GBFHT, who will then add them to the list on a tablet. This enables patients to access needed care in the safest way possible for both patients and staff.

Team-Based Virtual Care for Education Groups

GBFHT is promoting use of Primary Care Virtual Care (PCVC) in the team. PCVC is being used for patient counselling and education, and for staff and managers to connect in a more "face to face" manner beyond phone and teleconference. The diabetes team is also encouraging patients to access education videos online demonstrating blood glucose meters, sensors, and injectable medications (mainly those provided by pharma and manufacturers). The team also plans to bring together all the FHT team members (RN, Health Promoter, MH counsellor and RD) who would normally present in the T2 diabetes education groups, to create a video presentation that they can link on their website. GBFHT is committed to make the most of this crisis and to get creative about how they can continue to deliver service while protecting staff and patients!

Follow Up of COVID-19 Assessment Centre Patients

NSFHT is providing nursing support via telephone to patients who attend the local COVID-19 assessment clinics. Patients who are screened/assessed can consent to a follow up call from a nurse within the NSFHT. The nursing staff will share the caseload and reach out to individuals who may be having challenges with self-isolation. The nurses can refer to mental health counselling or counselling from a registered dietitian to increase access to information they may need while at home. This is a service they offer in the community to those individuals who may not already be connected with the family health team.
---
West
Initiative

Description

Team Name

OH Region

Chatham Kent OHT partners (including Tilbury District FHT, Chatham-Kent FHT & Thamesview FHT)

On Friday, May 21, more than 1,100 people scheduled to receive a COVID-19 Vaccine dose - more than any previous mobile clinic in Chatham-Kent. 

The collaboration continues to offer COVID-19 vaccines. On May 27, they will hold a pop-up clinic at Tilbury District FHT, and on June 3rd at the Chatham-Kent CHCs in Wallaceburg.

 

Tilbury District FHT, Chatham-Kent FHT & Thamesview FHT
 
Homebound Vaccine Team
2 Owen Sound FHT nurses partnered up with Grey County Paramedic Services to administer COVID-19 vaccines to homebound patients.
Owen Sound FHT
West

Peninsula FHT worked closely with Grey Bruce Public Health to ensure their request of 1,000 doses for 8 flu clinics were received on time to help immunize Bruce Peninsula residents.

West

Owen Sound Family Health Team continuing to run flu shot clinic

Owen Sound FHT offering a flu clinic for the community. 

West

The Mount Forest Family Health Team (MFFHT) has received a grant to help it provide virtual support to area Mennonite and Amish residents. The grant enables the township to provide support to help the health team obtain appropriate technology and support services to assist Old Order Mennonite, Old Order Amish, and Dave Martin Group Mennonites with access to health services that must be delivered virtually due to the COVID-19 pandemic.

Mount Forest FHT
West

Chronic Pain Self-Management Program (CPSMP)

The Minto-Mapleton FHT has been engaging with patients via OTN since the beginning of this pandemic. Chronic Pain Self-Management Program (CPSMP), a 6-week education session, is geared at teaching new ways to deal with chronic pain and requires participants to take an active role in learning and practicing these tools. Some topics include fitness/exercise, pacing, medications, emotions, fatigue/sleep, and communication. The support from the group members is an added benefit to the program. The feedback from participants has been excellent. If you are interested in learning more about how you can implement this program, more information can be found here.

Minto-Mapleton FHT
West

GLA:D (Good Life with Osteoarthritis in Denmark)

GLA:D (Good Life with Osteoarthritis in Denmark) is an 8-week education and exercise program for those with stiff/painful knees or those with OA of the hip/knee, and it consists of two 90-minute education sessions and 12 neuromuscular exercise classes. The program teaches how to control movement and achieve proper posture; builds strength through functional exercises; and teaches how to apply these principles to everyday activities. This group runs twice a week as an interactive virtual exercise session. 

 

If you are interested in learning more about how you can implement this program, GLA:D Canada provides training and support to run the hip and knee OA program. More information is on their website. 

Minto-Mapleton FHT
West

Schedule changes to optimize care during a pandemic

To improve efficiency, reduce PPE use, and decrease the risk of cross contamination between sites, the HFHT has modified the schedules of its RNs and NPs. Current schedules reflect the pairing and 2-week rotation of the IHPs at various sites. This modified schedule has also helped increase consistency of care in each office and has allowed RNs to continue to work in an expanded role (using medical directives) and to consult with the NPs.

Haldimand FHT
West

Lung Health – reducing gaps in care during COVID-19

To reduce the risk of respiratory complications in addicted patients, the HFHT CRE provides continued smoking cessation & relapse prevention services to patients through virtual visits and NRT drop-off/curbside pickup. This effort not only initiated appreciative feedback from patients through social media and radio, but the CRE was also client nominated and selected as the local "Haldimand Hero" for her work in supporting continued patient care.


To support continued care of patients with COPD & asthma, the HFHT CRE provides wellness calls to patients in isolation. Once assessed, the CRE collaborates with the HFHT team to ensure that patients have updated action plans that help prevent/reduce the risk of exacerbation and that may be self managed during isolation. Coordinated care plans and referrals to other services are initiated where necessary.

Haldimand FHT
West

Virtual Visits and support for HFHT and non-FHT clinicians

To reduce the risk of potential exposure to COVID-19, all clinicians of the HFHT initiated virtual visits (phone and/or video) with all patients. Patients requiring in-clinic visits were scheduled appropriately.
The provision of virtual visits decreased the risk of virus transmission through unnecessary exposure while still providing access to care. An added bonus was the conservation of PPE.
While some virtual visits were challenged by poor internet coverage in rural areas, the majority of patients were appreciative of the virtual care.


To facilitate virtual visits throughout the county, the HFHT registered nurse provided support for access to virtual services to all HFHT clinicians as well as clinicians at other non-FHT clinics.

Haldimand FHT
West

Improved PPE access to Family Practice clinics in Haldimand county

To simplify distribution of PPE to primary care clinics in Haldimand County, the HFHT became the hub for obtaining and delivering urgent PPE supplies and donated PPE. Spearheaded by the HFHT Clinical Lead, PPE is redistributed and delivered to FHT and non-FHT clinics to ensure an adequate supply for all clinics.
This effort is ongoing and has:
• improved relations and collaboration with primary care in the county
• streamlined access to PPE for clinics while minimizing confusion about how/where to obtain PPE
• enabled providers to safely continue to care for patients where in-clinic visits are necessary

Haldimand FHT
West

Mental Health Check-Ins and Counselling

The HFHT mental health staff recognise a need for support for any isolated patient and provide check-in phone calls to counsel and monitor patients in isolation. This support is provided not only to patients in active counseling (during the period right before the pandemic), but also to patients who may have received mental health support in the past. Through collaboration with other non-FHT clinics regarding PPE distribution, counselling services have been extended to non-HFHT patients.

Wellness Calls to Vulnerable Populations

To improve community support during COVID-19 and reduce the risks associated with isolation, the Haldimand FHT provides wellness calls to all elderly patients and families with children younger than 15. The team recognised that isolation may:
• prevent elderly patients from receiving needed assistance and may put them at a higher risk for mental health issues
• put families with young children at a higher risk for anxiety, stress, and potential domestic violence


The RNs and mental health staff used data extracted from the EMR to identify appropriate patients and used standardised screening forms (developed to support the initiative) to maintain consistency and to help identify gaps in care. Coordinated care plans and referrals to other services are initiated where necessary.
While vulnerable patients feel especially supported, all patients are appreciative of the service, and the HFHT has identified that the wellness calls may have prevented the need for a hospital visit for some patients.

Haldimand FHT
West

Local health care organizations work to address long term care COVID-19 crisis

The Grey Bruce Health Unit, SBGHC staff, and  Brockton and Kincardine Area Family Health Team, have assisted four long-term care homes with swabbing residents and staff. The partnership among public health, hospitals, and primary care to provide the enhanced surveillance testing of all residents and staff in long-term care homes has been a great success.

Brockton and Kincardine Area FHT
West

Educational Videos for Patients

The Niagara North FHT has created a series of YouTube educational videos for patients on topics such as hand hygiene, healthy foods, meal planning, and COVID-19 that can be found in this playlist.

Niagara North FHT
West
Virtual Substance Abuse Program

The Windsor Team Care Centre's substance abuse services has moved online due to COVID-19. A new virtual substance abuse program, part of the One Team Recovery (OTR) initiative, will host sessions through the online video call platform GoToMeeting. The service will allow up to 25 people to join the group session. To reach the masses and to provide a group setting, this program could offer those extra services and extra supports virtually and connect other people. 

Windsor FHT
West

Virtual Nutrition Groups

Hamilton FHT offers a variety of nutrition programming from educational groups such as Healthy You, Cooking Demonstrations, Diabetes groups and grocery store tours to treatment-based groups such as Mindful Eating and Binge Eating Disorder Treatment Program.

 

To help stay connected to patients during this challenging time, they have switched to nutrition counseling over the phone and have modified Diabetes Groups, Cooking Demonstrations, Healthy You Lifestyle Groups for a virtual platform. Participants now join their much-loved groups through Zoom meetings. They have even created a HFHT Zoom Etiquette to help facilitators and participants get used to this new platform.

 

The dietitian/mental health counsellor-led treatment groups (Mindful Eating Groups and Binge Eating Disorder Groups) have also gone virtual. To meet the needs of the community, during the months of May and June, they are offering Zoom webinars for the public on topics of interest including diabetes, heart health, depression, and emotional eating. They are excited at the prospect of continuing to run virtual groups such as these to support patients now and in the future.
---
North
Initiative

Description

Team Name

OH Region

COVID-19 Vaccine Collaboration
Working with the Thunder Bay District Health Unit, the North Shore FHT has been vaccinating community members through 150 to 500-person vaccine clinics in the community. It is estimated that as of May 17th,  over 74% (2107) of eligible residents have received their first dose and over 13% (320) have received their second dose.
North Shore FHT
 
Elliot Lake FHT Continues To Support Delivery Service For Seniors

The Age Friendly Delivers program is a grocery shopping and delivery service that was established by the city at the onset of the pandemic this year. The Age Friendly Check-ins program is a daily contact service for those in self-isolation. Initially, the check-in program was administered by the city, but the Elliot Lake Family Health Team has since taken over.

Elliot Lake FHT

North

Drive Thru and Walk- In Flu Shot Clinics 

Wawa FHT was offering drive thru flu shots to the community within their cars, however now in the colder weather they are offering walk-in clinics in various locations. 

Wawa FHT 
North
COVID-19 outreach team finishes Long Term Health Care Home testing

Powassan & Area FHT worked closely with the Health Centre's COVID-19 Assessment Centre Outreach Team and the North Bay Parry Sound District Health Unit to collect a total of 1,239 swabs. The outreach team conducted testing at Cassellholme, Nipissing Manor, Water's Edge and Eastholme and tested both residents and staff.

Powassan & Area FHT
North

Exploring primary care information as an indicator of impacts of changes in restrictions related to COVID‐19

Public Health Sudbury & Districts has started an initiative to collect primary care data from FHTs and NPLCs that are currently screening COVID-19 patients. They anticipate the data may provide an early signal of those impacts in the community and support decision makers in their efforts to mitigate the outbreak.

Public Health Sudbury & Districts – FHTs & NPLCs

INR Testing in the Parking Lot

As teams move to providing care to patients within their cars in parking lots for immunizations, COVID testing etc., Atikokan FHT is providing INR testing for patients within their cars. 

ED Diversion Strategy

Sunset County FHT has partnered with their local hospital to create a communication strategy in which they are offering unrostered patients' same day/next day appointments to ensure patients continue to have access to primary care.

Diabetic Patient Check Ins

Northeastern Manitoulin FHT has created a script that their dietitians are using to check in on diabetic patients to ensure continuity of care.

COVID-19 mobile assessment service

Elliot Lake FHT has developed a COVID-19 mobile assessment service. They screen people over the phone and if a person qualifies, they send a nurse to the home to do a swab.

Primary Care Support for Supported Isolation Centre and Temporary Emergency Centre

The emergency shelter in the City of Greater Sudbury has been temporarily relocated to a hotel. Sudbury District Nurse Practitioner Clinics is working with Canadian Mental Health Association Sudbury/Manitoulin and the City of Greater Sudbury to provide primary care for individuals who are using the temporary emergency shelter. Through a Supported Isolation Centre, homeless individuals that have to be in quarantine due to COVID-19 (e.g. symptomatic individuals, those awaiting results) will be monitored by a team of health care providers. In addition, primary care providers review all intake assessments and participate in care plan development, renew and/or adjust chronic disease medications, and consult with addiction and mental health specialists as required.

 

Sudbury District Nurse Practitioner Clinics

Virtual Programming for Community

Through Zoom and promotion on Facebook, the website, and emails to community stakeholders, they are holding free virtual programming for patients and broader community. The Social Worker and Dietitian are holding 'Am I doing this right? Caring for ourselves in unprecedented times.' This provides practical strategies for managing mental and emotional health during a pandemic. The Social Worker and Registered Nurse are holding Mindfulness Awareness Stabilization Training to help participants learn how the body processes stress and emotions, and to develop resources for self-care.

Sudbury District Nurse Practitioner Clinics

Connecting with Patients via Multiple Platforms

Marathon FHT has shared any clinic changes in various ways with communities they serve. Some examples include: clinic Facebook page, sent to First Nations clinics, local paper, and email.

Collaborating with Local Pharmacists for Prescription Extensions

Marathon FHT contacted the local pharmacist to arrange for extension of prescriptions for chronic medications rather than sending renewal requests for those medications to the physicians/NP at this time, plus a letter to employers (there are only a couple of major employers) and Chamber of Commerce indicating that they will not be providing off work notes for workers.
---
East
Initiative

Description

Team Name

OH Region

Drive-thru COVID-19 Vaccine clinics & tips
Ottawa Public Health offered the vaccines to Rideau FHT with  2 weeks to plan and register patients & train staff. Saturday, April 24- vaccinated over 500 patients in similar fashion to their flu clinics. The mobile approach continues to work extremely well for them. Tips available on the OMD link or through Dr. Shadbolt.
Rideau FHT
East
Outdoor Flu Clinic

The Athens District FHT recognized that their yearly flu clinics typically attract large crowds, so they planned an outdoor drive-thru flu clinic. To ensure they were covered during the uncertain November weather, they partnered with a local church to make use of their awning to shield them from the weather. 

The drive-thru clinic created a buzz in the community and was a complete hit! The team of  2 MDs and 2 NPs administered approximately 500 flu shots in the span of 6 hours on November 10, supported by their nursing team. Patients and unrostered community members felt grateful and safe as a result of their teams' initiative.

Athens District FHT
East

Covid-19 Assessment Centre for Inuit 

The AIFHT also implemented enhanced responses as Covid-19 Assessment Centre for Inuit starting in April on receiving East Region Ontario Health approvals. Working with Public Health, EROLA lab/Ottawa Hospital the AIFHT implemented streamlined assessment and testing of all patients throughout the pandemic, including those presenting as symptomatic, asymptomatic, or for surveillance/sentinel swabbing. 

Isolation Hotel HUB 

The AIFHT was also requested to provide primary care, and Covid-19 support for Inuit waiting to be re-patriated Up North at the Isolation Hotel HUB in Ottawa. Akausivik Inuit Family Health Team (AIFHT) sends an outreach team (physician, nurse, Inuktitut case manager) twice a week to the HUB. This has been and continues to be provided since the beginning and for the duration of the pandemic. Patients are seen for urgent primary care challenges such as pain, wound care, post-surgical exam, medication reviews, prescription needs (physical and mental health), blood work, Covid-19 testing and differential assessment, pre-post natal, well baby/child/mother checks, and chronic disease needs. 

AIFHT Paramedic Outreach Program 

To respond to the enhanced needs of housebound patients the AIFHT also established an AIFHT Paramedic Outreach Program in partnership with the Ottawa Paramedics. Together, the AIFHT Paramedic Program has enhanced outreach to Inuit patients who are elderly, those with mobility challenges,  surgical pre-admission, post hospital discharge, and medically fragile requiring multiple follow up visits and case management.

Drive Thru, Clinic, Retirement Residence Flu Shots 

The Bancroft Community FHT has been offering drive thru flu shot clinics in the parking lot. Some clinics have been by booked appointments while others have been walk in/drive thru clinics. Bancroft Community FHT offered flu shot clinics at seniors apartment buildings and retirement residences so that they did not have to actually leave their homes. 

Peterborough Family Health Team offers drive-through flu shots

Peterborough FHT is offering a drive-thru flu shot clinic to their community within a parking garage. 

In collaboration with their town North Durham FHT is supporting flu shot clinics. 

During the first wave of the COVID-19 pandemic, Belleville NPLC split its team into 2 cohorts to minimize contact & limit the number of people in the building. "That was to allow us to work on a rotating basis between home and the clinic" 

West Carleton FHT is running an injection clinic under a tent in the staff parking lot for injections. Patients are instructed to arrive in short sleeves and pre-screened over the phone. Patients appreciate this effort as injections for allergies, chemo etc. continue.

Renfrew County Virtual Triage and Assessment Centre (RC VTAC)

The RC VTAC is a collaboration between Renfrew County Primary Care teams, the County of Renfrew Paramedic Service, Renfrew County Hospitals, and the Renfrew County and District Health Unit, with the support of Ontario Health East.

 

The RC VTAC is a primary care solution to reduce the demand on Emergency Departments and provide Renfrew County residents, who do not have a family physician or cannot access their family physician, with the appropriate level of care when they have any health concerns (including concerns related to COVID-19).

Primary Care in Renfrew County

Elderly Patient Check Ins & Community Collaboration Website

Bancroft Community FHT is calling all elderly patients to encourage self-isolation, checking to ensure that they have enough medication and groceries, and assisting with making arrangements. They have set up a community website for individuals to offer or ask for help.

Transitioning Care Virtually in response to a Positive COVID-19 Patient

In late March, Lakelands FHT discovered a positive case at the Northbrook site, which resulted in the immediate closure of the building. They all had to go home for a 14-day self-isolation. In response, they decided to build a clinic without walls! They created an email account for patients to contact them and posted this on their website and Facebook page. Physicians and NPs were able to remotely access the PSS EMR and fax prescriptions from their homes. Their super RN/IT expert also had remote access and provided critical support. They were able to create schedules for themselves and call patients from their homes by turning off the Caller IDs on their phones. The mental health social worker was able to call the patients in her schedule as well.