What is POPLAR?
The Primary Care Ontario Practice-based Learning and Research Network (POPLAR) is an initiative of Ontario's six University Departments/Sections of Family Medicine and the Alliance for Healthier Communities. POPLAR securely collects and de-identifies electronic medical record (EMR) data to support practices in delivering optimal care across Ontario and strengthen practice-based clinical research and quality improvement processes. 
POPLAR works with clinicians, researchers, and policy makers, providing information on the vital work primary care does, while supporting practices in delivering optimal care across Ontario. Currently, over 1,000 family physicians are contributing EMR data for over 1.8 million patients to the POPLAR database.
By joining POPLAR, and agreeing to supply data through our practice networks, you contribute to a secure provincial base of evidence that will strengthen family medicine's capacity to learn about the COVID-19 pandemic and prepare for the next one. This includes effects on preventive services, chronic disease management and long-term outcomes for our patients. For more than a decade, we have been safely and securely collecting EMR data from practices of consenting family physicians, with full privacy protection, to study and promote the vital work done in such practices. The data you provide can help make the case for the importance of investing in family medicine.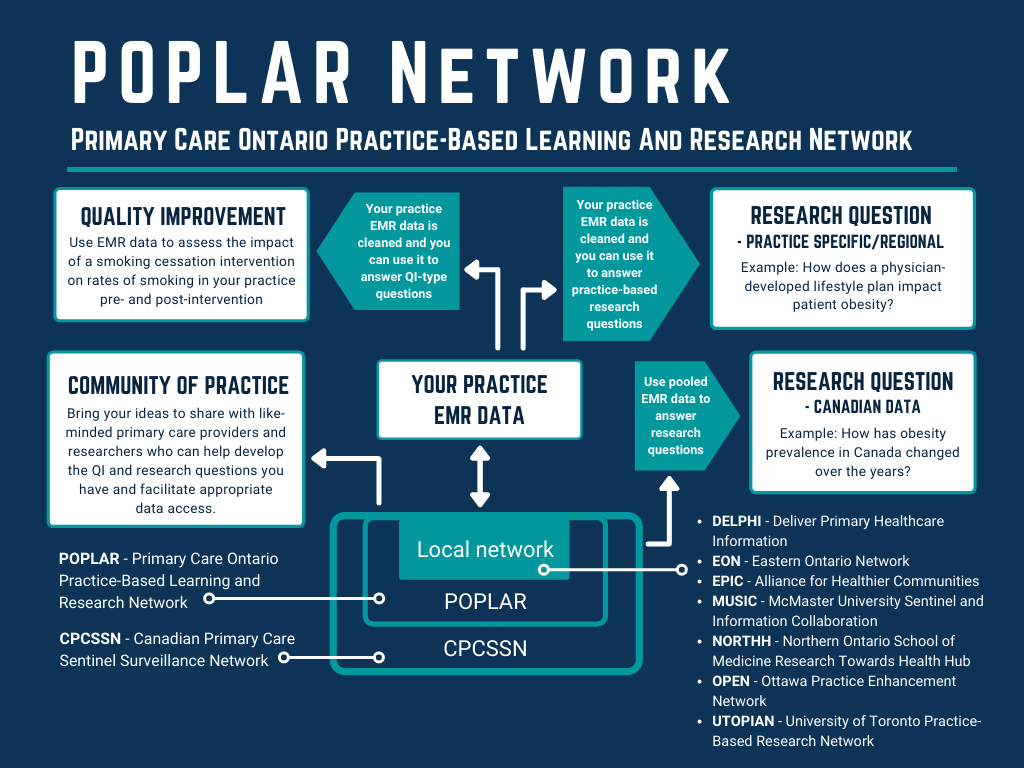 POPLAR and COVID-19 Vaccine Prioritization
Building on the work POPLAR has done in the past 10+ years, POPLAR can assist practices wishing to identify patients that should be prioritized for COVID-19 vaccinations. This relies on EMR data that have been extracted from primary care practices, cleaned, and standardized. The data can accurately identify groups of patients meeting various criteria. 

Complex queries can sometimes be difficult to run in EMRs. POPLAR can readily flag patients to be prioritized when the identification parameters rely on multiple criteria (e.g., age range + uncontrolled diabetes + obesity).

POPLAR data is also linkable to census data, which means that differences in neighborhood socio-economic levels can be added to health data in EMRs; this allows a more comprehensive assessment of risks. This is especially relevant for vaccination prioritization: we know that social challenges our patients live with, such as poverty, can be associated with a greater risk of contracting COVID-19 and greater risk of serious complications once infected. POPLAR can obtain aggregate measures from census data at the neighbourhood level, including type of residence, immigration status, average household income, unemployment, education.

There is strong evidence in Ontario that the risk of infection varies by neighbourhood and is associated with each neighborhood's socio-demographic profile. For example, in Ottawa, neighbourhoods with more Black, Middle Eastern, low income, and single-family residents have higher rates of COVID-19 infections.
 
We can only understand the impact of COVID-19 on our practices and our patients through collecting and analyzing accurate and representative health data. The pandemic has exposed many data gaps in Ontario. Our Teams are vitally important to ensure that those we serve are included, as our information reflects our settings, patients, and communities. Collectively, primary care's voice can be heard by providing safe and secure access to real-world data; this is possible with your help!  Register with the POPLAR network member closest to you today to start contributing your EMR data.
Data Security & Privacy
POPLAR only studies de-identified patient and practice data. POPLAR complies with robust ethics, governance and security measures. Individual patients have the right to opt out of their data being collected through POPLAR's networks for research. 

How to Register?
Help POPLAR build practical evidence in family medicine, by supporting the collective Culture of Curiosity and by contributing data. The time and effort it takes to safely and securely contribute is minimal. All you need do is fill out a consent form and a brief survey; POPLAR staff will co-ordinate data extraction at your practice, with all safeguards in place.
Local networks:
•    DELPHI - Deliver Primary Healthcare Information, Western University
•    EON - Eastern Ontario Network, Queen's University
•    EPIC – Equity, Performance, Improvement and Change, Alliance for Healthier Communities
•    MUSIC - McMaster University Sentinel and Information Collaboration
•    NORTHH - Northern Ontario School of Medicine Research Towards Health Hub
•    OPEN - Ottawa Practice Enhancement Network, University of Ottawa
•    UTOPIAN - University of Toronto Practice-Based Research Network

If you are interested in registering, or if you would like to find out more information about POPLAR, please contact Sandeep Gill at Sandeep.gill@afhto.ca, who will then direct your query to your local network contact. More information can also be found on the AFHTO website here.