Wed, April 10, 2019 - Wed, July 17, 2019
Baycrest, in partnership with North East Specialized Geriatric Centre, is excited to announce Cycle 4 of "Project ECHO Care of the Elderly" (ECHO COE), a telehealth education program with didactic presentations and case-based learning that aims to help primary care providers build capacity in the care of older adults. The sessions run weekly from April 10 – July 17, 2019 on Wednesdays from 3:00-4:30 PM EST. For more information, please see the attached letter and flyer.
Participating in ECHO COE offers multiple benefits, including:
•    Education framed around real case presentations 
•    Opportunity to earn Mainpro+® CPD credits at no cost 
•    Opportunity to network with peers and content experts 
To apply, please fill out the form at:  
https://redcap.baycrest.org/redcap/surveys/?s=A3AELKX8M8 or through our website https://baycrest.echoontario.ca/apply-for-an-echo/
 
What is ECHO?
ECHO is a 'Hub' and 'Spoke' model of knowledge dissemination and capacity building, which aims to spread knowledge between Academic Health Science Centres and the frontline of community care. Project ECHO® was created by Dr. Sanjeev Arora at the University of New Mexico in 2002 and has grown to over 130 hubs around the world. This project is fully funded by the Ministry of Health and Long-Term Care and does not require any payment from primary care provider sites. Participants may qualify for continuing professional development credits.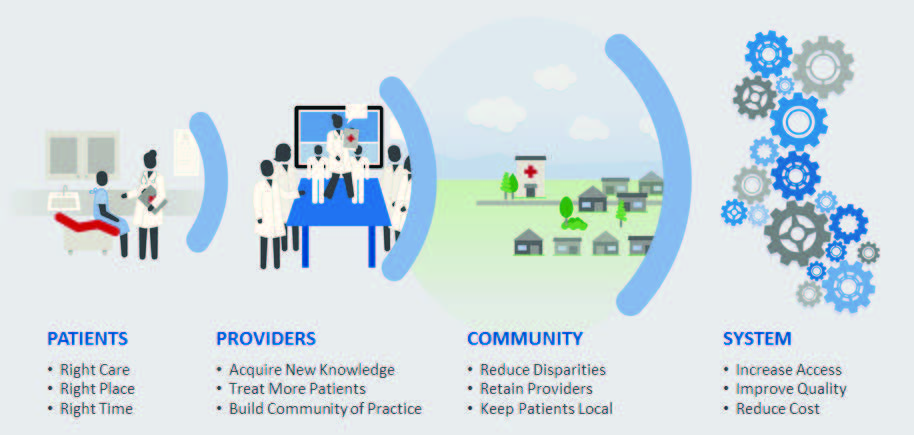 ECHO COE Cycle 4 Sessions will be held weekly on Wednesdays from 3:00-4:30 pm, from April 10, 2019 to July 17, 2019. The 90 minute sessions include a 15-20 minute didactic presentation related to care of older adults, followed by one to two de-identified patient case presentations by participants.
ECHO Sessions will include didactic presentations on topics such as:
 PAIN
 INCONTINENCE
 POLYPHARMACY
 MOVEMENT DISORDERS
 MEDICAL CANNABIS
 DEMENTIA
 RESPONSIVE BEHAVIORS / BPSD
 MOOD DISORDERS
 FALLS
 SLEEP DISORDERS
Click here for the Project ECHO Care of the Elderly- Info letter

For more information or to register, please email echo@baycrest.org or visit www.baycrest.echoontario.ca