Measurement and Quality Improvement
Getting Started with an Opioid Use Registry
October 18, 2017
This query has been developed to help you use your EMR to create a list of your patients who have a current prescription for opioid use. Creating this list is a first step in developing a program to manage opioid prescriptions in your team. More refined queries are in development which will help you identify patients whose opioid use is problematic or risky (users that are on a high morphine equivalent dose and users who have a simultaneous prescription for benzodiazapine).
Technical details of the Query Criteria
(click image to see larger version)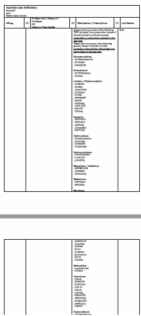 Note: This is just one component of the vast amount of work being done in the province on dealing with the issues associated with opioid use.  More information will be added to this post when it becomes available. To learn more about opioid prescribing in the province visit Health Quality Ontario's post on Opioid Prescribing in Ontario.
Step 1. Import the query into your EMR.  Right now, you can only do this if you have either Telus PSS, QHR Technologies Accuro, or OSCAR EMRs. You will likely need the help of your QIDSS, IT staff or other person who usually works with your EMR to do this.
For PSS, import the PSS SRX file into your EMR. Contact Greg Mitchell for the file.
For Accuro, download the query "AFHTO Opioid Frontend Search" from their publisher.
For OSCAR, contact Greg Mitchell for information.
Step 2.  Run the query in your EMR. Again, you might need the help of your QIDSS, IT staff or other person who usually runs queries in your EMR. Running the query will produce a list of patients prescribed an opioid.  The query gets you STARTED in building a registry but doesn't do the whole job for you.
Additional Resources for Managing Pain and Addiction
If you are looking for resources to assist you and your team better understand pain management, please check out AFHTO's post on Supports for Management of Pain and Addiction. Here you will find resources referencing partnered supports to help navigate the pain management landscape.
Additional Opioid Resources
Opioid Management Toolkit for TELUS PS
The Opioid Management Toolbar is now available for live use. To use the toolbar, download it to your local system, unzip the contents, and install the custom forms, searches, and reminders. The toolbar was developed to support safe opioid management based upon 2017 guidelines. It displays the MEQs for each patient, includes screening tools with reminders that change colour when overdue, provides summary and visit forms, and also includes tools to help manage opioid prescribing such as opioid switching and tapering tools, handouts, and links to resources. A demonstration video is also available to provide an overview and help get you started.