Success Stories
Tungasuvvingat Inuit FHT wins Innovation in Public Health and Primary Health Care Award
June 6, 2014
The Tungasuvvingat Inuit Family Health Team (TIFHT) was honoured with this award at a the "Prevent More to Treat Less" conference, jointly sponsored by the Association of Ontario Health Centres and the Association of Local Public Health Agencies, together with a range of partners including AFHTO.
Since March 2011 TIFHT has provided Primary Health care services to Ottawa's Inuit population.
Nominated by Ottawa Public Health,  the team was described as providing "innovative, holistic model of culturally safe, community-based primary care with interdisciplinary services that incorporate an understanding of the determinants of health and a respect for Inuit diversity, values, culture, language, knowledge and self-determination."
To enhance health equity, efficiency and effectiveness, TIFHT and Ottawa have developed a powerful partnership — a partnership that has ensured many more people from Ottawa's Inuit community can access culturally appropriate services that address the communities most pressing health needs.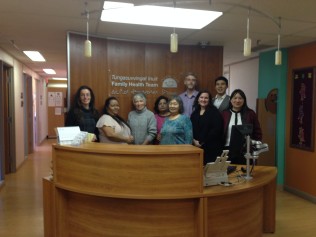 TIFHT has facilitated community engagement, informed needs assessments, adapted health education resources, and influenced public health approaches to collectively identify priority health concerns. This has been accomplished through ongoing dialogue, sharing promising practices, community consultations, and Elder participation in service and program planning.
This integration of public health into primary care services has meant clients who might otherwise avoid mainstream health services get the supports they need. Both Ottawa Public Health and the Tungasuvvingat Inuit Family Health Team are focused on controlling communicable diseases.  Working together they have enhanced access to testing, treatment and vaccines.  They also have designated liaisons, and developed collaborative case management.
Both organizations also want to improve the oral health of the Inuit Community in Ottawa. They are working together they run a  monthly dental screening clinic, located at the Family Health Team's site.  And now this dynamic partnership is in the process of developing joint activities related to smoking cessation and suicide prevention.
This is an excellent example of how working together Public Health and Primary Health Care providers can promote population health and advance health equity for a population that is vulnerable to poor health.