Highlights
Announcing AFHTO 2012 Bright Light Award Winners!
October 16, 2012
Demonstrating and Celebrating the Value of Family Health Teams – this is the focal point of the AFHTO 2012 Conference, and the reason for launching the AFHTO Bright Lights Awards program.  These awards recognize the leadership, outstanding work and significant progress being made to improve the value delivered by family health teams.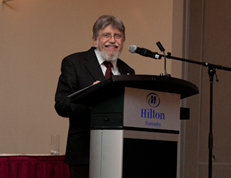 The conference was built around eleven theme areas that, in combination, advance the value delivered by family health teams.
Teams were invited to submit nominations for Bright Light recognition in these categories.  The submissions included descriptions and objective evidence of the scope and impact of the achievement, and action taken by the FHT to spread the achievement more broadly. An Awards Committee reviewed and rated all submissions to determine the recipients.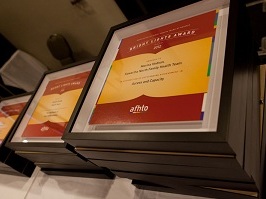 The Bright Lights Awards were presented at the conference dinner tonight, attended by over 200 people from family health teams and senior representatives from government, the Ministry of Health and Long-Term Care, the LHIN Collaborative and some of the associations who, along with AFHTO, work together as the Ontario Primary Care Council.
The Bright Lights Award recipients are listed below.  Click on the links in the names below to read a summary of their achievements.
Access and Capacity
Getting Data and Using it to Improve Care
Improving Care for People Living with Mental Health Challenges
Improving Patient's Experience of Care
Leveraging Technology to Improve Quality and Efficiency of Care
Meeting Needs of Special Populations
Strengthening FHT Leadership and Governance
Strengthening the FHT Team
System Integration: Building the Team Beyond the FHT
The Triple Aim in FHTs – Better Care, Better Quality, Better Value
Four Awards for Best Practices in Health Promotion and Chronic Care –
Each of these winners has received a grant of $3000 Boehringer Ingelheim to be used by the FHT to send one team member to the 14th Annual International Summit on Improving Patient Care in the Office Practice & the Community, hosted by the Institute for Healthcare Improvement (IHI). April 7-9, 2013, in Scottsdale, Arizona